Social media is really not helping to shape the morals of our society and it is becoming a worry. Daily we see videos of young ladies who are supposed to be responsible people posting things that are untold. Wherever the world is heading, only God knows.

A thick lady by Instagram name Kinkchic took to her Instagram account to upload a video of herself twerking with only pants and this got a lot of people talking, while some people praised her, a particular follower told her she was supposed to showcase her wisdom, not her body, of course as expected other people blasted the follower for making such a comment on someone's page but then, should we not correct ourselves collectively?
It is quite unfortunate that hypocrisy is becoming a norm in our society where people do not have the courage to correct anyone. See the follower's comment below and video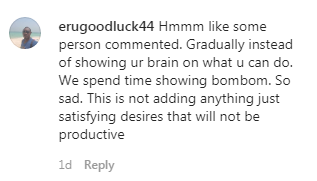 Share your thoughts via comments on this, do you think differently? Is the follower right or wrong to say this?