Human beings are always fast to condemn and judge, we are always finding reasons to condemn someone even when we are no better than the person but just because it has happened to that person we will find reasons to judge.
Do not forget that we are humans, the fact that someone is the Governor's son or the First Lady does not make them immortal, they feel pains when pinched and they feel hurt when insulted.
There is no sane person that will not feel insulted when someone insults his father. That was the genesis of this whole sagas.
The young man called Thanos insulted Governor Elrufai no matter how you see it. The fact that he was elected does not mean he should not be respected.
Bello El-rufai as a human being with blood in his veins must have felt insulted and had to give it back to Thanos anyway he feels will hurt him too. Read the full story here.
It is a give and take thing and it all happened on Twitter.
For all I know, Bello El-rufai has beautiful and young girls at his beckon call so he will not even think of sleeping with the young man's mother, we all know he was just getting back at him for insulting his and his father. Also Please Read: Real Life: Help! My husband always insert his thing inside my anus and I am in pains now, lady cries on Facebook
You can see from his tweets below that he was just getting back at the dude for insulting his father.\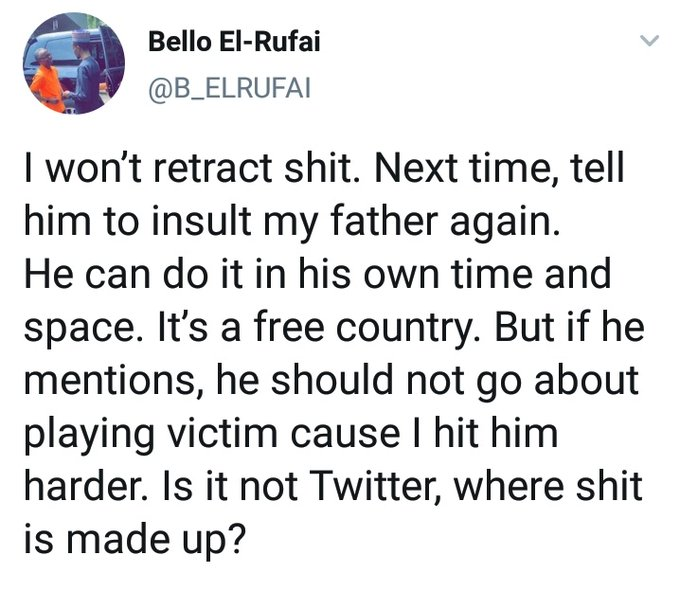 Let's stop politicizing this and be real, does this not look like just a mere talk? Thanos started this whole thing and when it got too hot for him he started playing the victim card. So wack of him.
Now concerning the First Lady, yes she would have even ignored the whole thing but wait, this is family, you do not clap for someone who is insulting your husband and your son. Read her reply here.
Remember, she is a wife and a mother first before you can call her First Lady, her primary responsibility is her home first. Hot and New for your reading: Uyo is BOILING! A married man sends a threat message to a guy who is using juju to screw his wife – read post
Also, her comment was not in any way supporting her son, she only said no one should call her out and that her son is grown up and can handle his issues. That is not enough to say that she is supporting him to rape someone's mother. Read what she said here.
We should stop being insensitive whenever it comes to issues pertaining political office holders, they are humans too.
This is my piece of advice and in a way I see nothing wrong in what Bello and his mother said.
Download Easter Gospel Music by Princess Pat Akpabio titled – I Will Praise Your Name MP3
Want to buy GOODS directly from Chinese Factories at WHOLESALE PRICES? Click Here
Before then please read: Married Woman: I Have Decided To Cheat On My Husband And Nothing Will Stop Me – Read why
Also did you Watch what Pst. Mrs. Veronica did with my husband in the name of healing and recorded – wife shares video
Read all updates on Coronavirus Here
To get latest updates, follow us on FACEBOOK HERE, and TWITTER HERE