A male corp member who was having his CDS the coming Friday took to his facebook page to celebrate his father because he is dead.
He said he is happy to see him die, he said finally the devil is death referring to his father as the devil.
DONT MISS THIS: Hottest stories and confessions from Nigerian girls and women that you may have missed this month – A Must See
Almost everyone is wondering what will make a young man say such things against his father even in death and even celebrating his death.
See his post below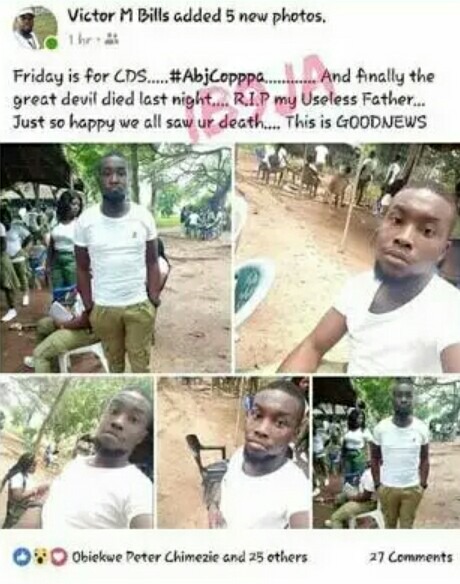 What do you think? Are you shocked as we are?
Let us hear your views via comments and please share this post.
Read all updates on Coronavirus Here
To get latest updates, follow us on FACEBOOK HERE, and TWITTER HERE
See other topics you missed here;
I will not stop Sunday services because of Coronavirus, my ministry is special – Pst. Mrs. Veronica threaten
God anointed my thing to heal men of their fertility problem by sleeping with them – Pst. Mrs. Veronica
How a girl was raped by the same guy that raped her friend previous year, same month and day
Your p***y has meat – follower tell Anita Joseph after she posts picture revealing her thing
If you sleep with your husband's brother you have not cheated on your husband – Pst. Mrs. Veronica advises