Nigerians have taken to social media to react over the fuel price comparison that the President made between Nigeria and other Countries.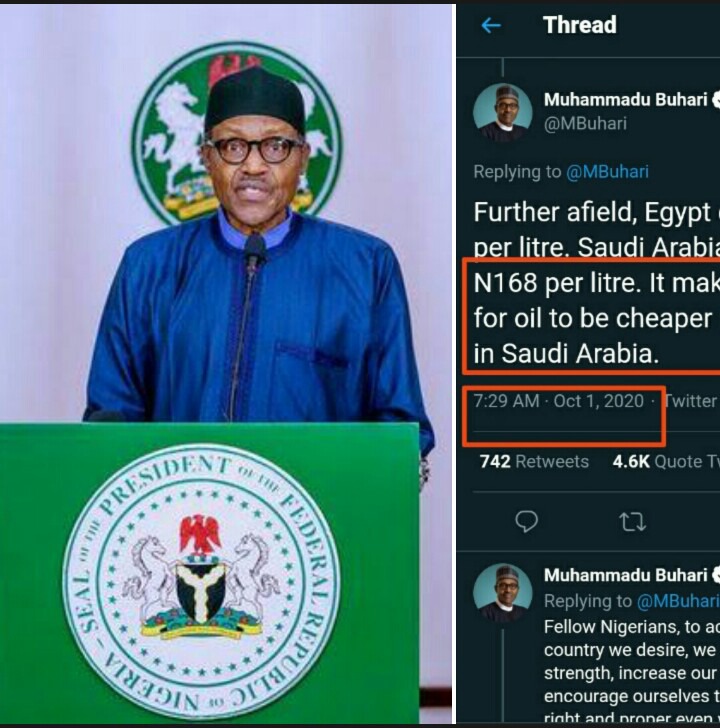 According to the statement on Buhari's social media page, the President compared fuel pump prices in Nigeria against the pump prices in Niger Republic, Chad, Ghana, Egypt and Saudi Arabia.
The President said that: "It makes no sense for oil to be cheaper in Nigeria than in Saudi Arabia". He solicited for Nigerians to cooperate with the Government to ensure peace and progress.
Following the statement by the Nigerian president, a lot of people became furious and took to their social media accounts to blast the president and his administration over their negligence of the rights of the Citizens.
On Twitter, it was like a war zone with thousands of people commenting and expressing regrets for accepting his leadership.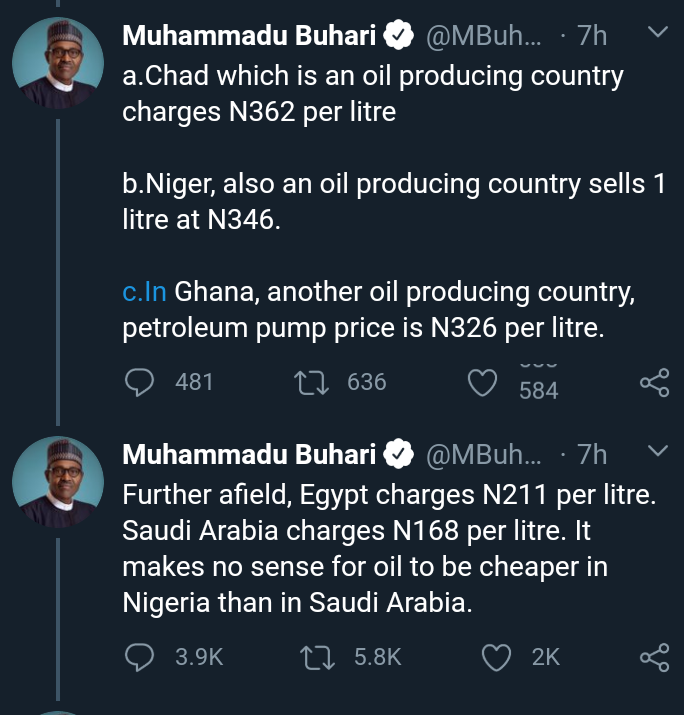 PHOTO OF BUHARI'S TWEET
Here are some Replies to President Buhari's statement.
"This Man at it again comparing the price of PMs in Nigeria with that of Saudi Arabia . Is Nigeria as developed as Saudi Arabia? Why cant you compare our minimum wage? Is the level of poverty the same?"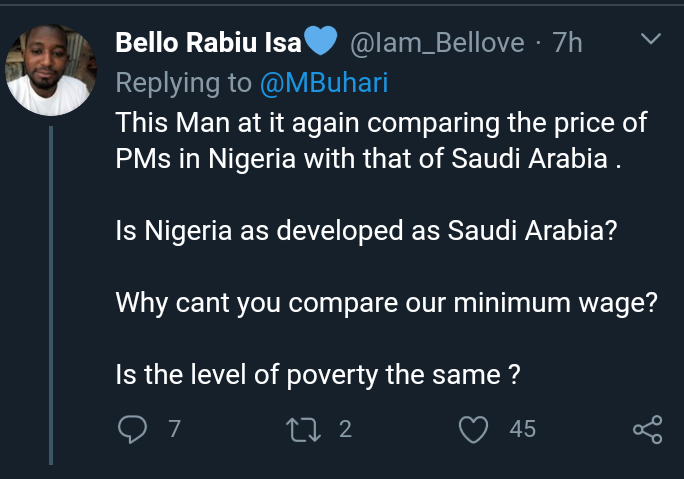 One of the replies brought to rememberance the fact that the current Nigerian president was involved in a protest against former President Goodluck Jonathan's removal of fuel subsidy back in 2011.
The reply reads "Sir, is this not you protesting against Goodluck regime about hike in fuel price ??? But now you telling us it make no sense.."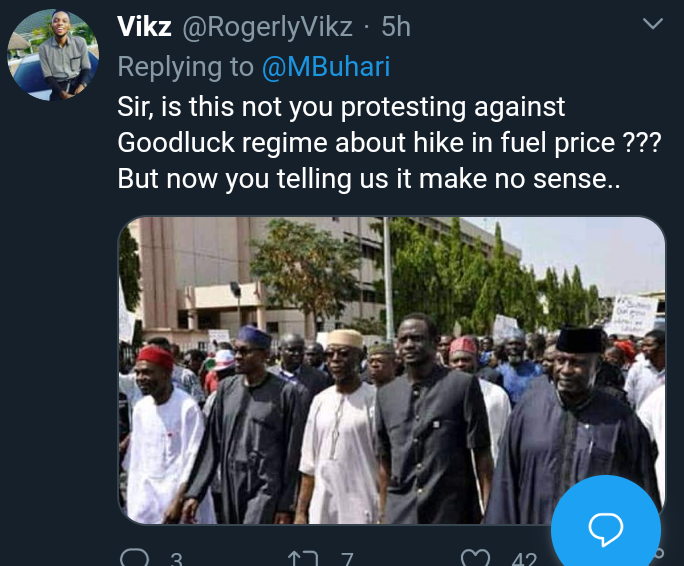 In another reply, a Nigerian expressed disappointment over the President's statement and considered it embarrassing. He asked about the current exchange rates of these countries versus that of the Nigerian naira their GDP, especially Ghana where he compared their 1 Cedi to be equal to NGN66.
"This comparison is highly unintelligent and embarrassing . What's the exchange rate of these countries versus Naira? What is their GDP? Are you aware that 1cedi is NGN66 ? Note that your N161 per litre is less than 3 cedis,"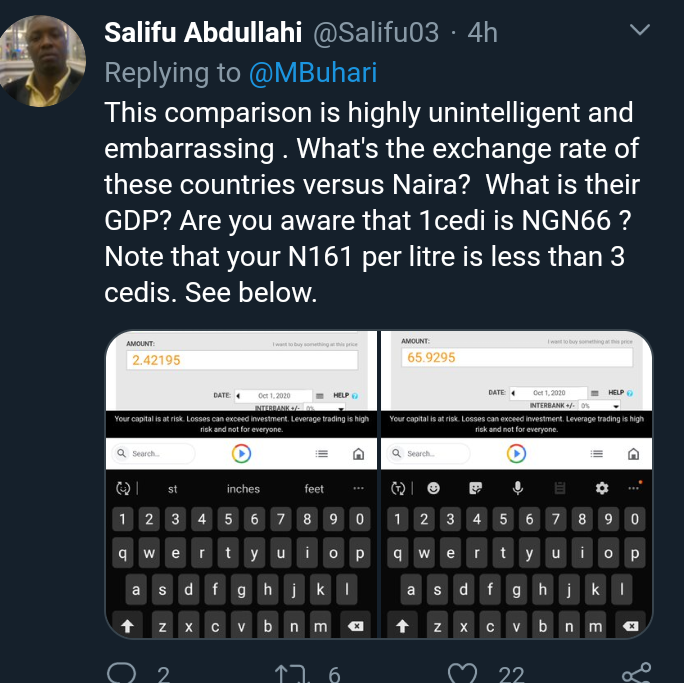 Abasiama Akpan wrote: "This is not what you promise us sir…this can be solved inward not to compare…. Rethink and make adjustment. How many are we earning as Minimum wage? How about the million unemployed? How will they cope? Solution is within you. Rethink pls"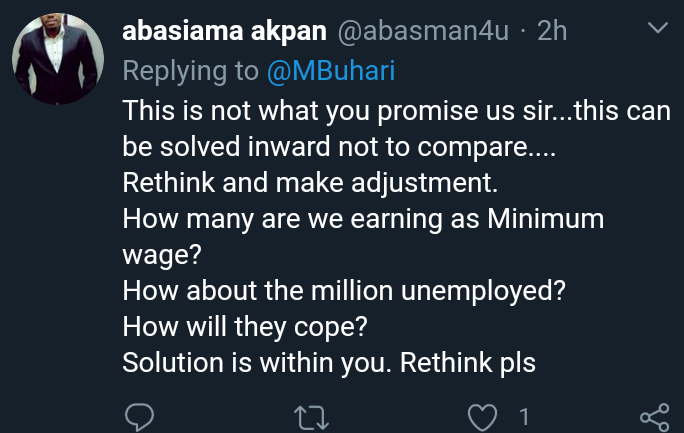 Another person pleaded that the president and his administration should supply constant power to reduce the cost of production and the demand for fuel, and also give Nigerians working refineries and affordable education.
He wrote: "Sir, pls give us constant power supply to reduce cost of production n reduce demand for fuel, give us good ral system to reduce use of cars, give us refineries to stop importation of fuel, give our children free n compulsory primary to secondary education, give us affordable."