Former President Olusegun Obasanjo is one man that is respected in Nigeria, and Africa as a whole.
This is because he has proven himself to be an embodiment of wisdom over the years and one thing that really made people like him is his blunt nature and never being afraid to say his mind anytime, any day.
According to Sahara Reporters and Naijaresources, the former president charged youths in Africa to take over power and stop voting for old politicians in Africa.
Honestly, if Obasanjo was referring to Nigerian youths when he made this speech then he may have made a mistake.
I will not want to talk about youths in other countries because I have not lived with them to study their behaviors but you see Nigerian youths, they are not ready to be given sensitive positions in government.
Integrity and honesty seem to be a very rare commodity among the average generation, until we change this narrative then this statement by Obasanjo was not for us.
An average Nigerian youth things about making money fast and if given such powers, then looting may escalate to an uncontrollable level.
Are we talking about cultism? Almost every youth in Nigeria that is involved in politics is a cultist, this is the sad truth and if we will be sincere with ourselves we will admit that this os the sad truth even at the local government level.
Obasanjo made a mistake by saying that the youths should force the old politicians out of politics, the truth is that these elders are even the ones maintaining the little sanity in politics that we are seeing.
I think he should have addressed the behavior of the youths and charge them to refrain from lifestyles that goes against integrity and honesty.
He should instead charge them on the need to shun cultism and other vices, take a look at the student union in each university in Nigeria and you will agree that it has become a battle between different cult groups.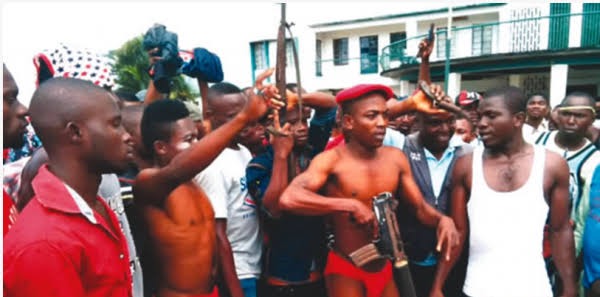 From the image above, will you say these people can become leaders? Are these the set of leaders we want for our country?
Obasanjo's speech didn't come at the right time because truth be told, Nigerian youths are not ready to be saddled with such responsibilities.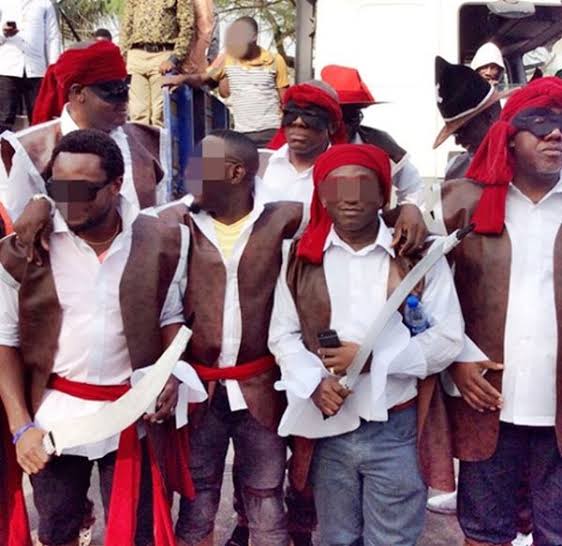 Are these the leaders of tomorrow?
The educational system in the country has dropped on its level and youths no longer take their studies serious, education is key but to most of our youths 'connection is key'. Is this the way forward?
Do you share my thoughts or you see from a different perspective? Let us here your thoughts via comments below.
Want to buy GOODS directly from Chinese Factories at WHOLESALE PRICES? Click Here
Newest Posts;
Dont Miss This:'I don't have Gonorrhea or any STD, Cletus is sent to blackmail me' – Pst. Mrs. Veronica
Dont miss this: HELP! I belong to a group of LESBIANS who swore NEVER to get MARRIED but I want to get MARRIED now – lady needs advice
Dont miss this: WONDERS! Pst. Mrs. Veronica infected me with gonorrhea, she has ruined my life – Cletus Brownson cries
Dont miss this: Trending Video: Man gets mad with his son after paying $21k for his school fees and he passed only music
Also read: True Story: My husband likes kissing our 15yr old daughter deeply and I am beginning to get uncomfortable – please advice.
Hot and New for your reading: Uyo is BOILING! A married man sends a threat message to a guy who is using juju to screw his wife – read post
Before then please read: Married Woman: I Have Decided To Cheat On My Husband And Nothing Will Stop Me – Read why
Also did you Watch what Pst. Mrs. Veronica did with my husband in the name of healing and recorded – wife shares video
Read all updates on Coronavirus Here
See other topics you missed here;
The Truth about Abba Kyari's rumored death and what we discovered
That Fire Outbreak at the Office of the Accountant General could be a setup to loot – read and share your thoughts
OPINION POLL: Will You Permit Your Bank To Deduct N5,000 To Support The Federal Government In The Fight Against Coronavirus? Vote Your Opinion Here
DONT MISS THIS: Hottest stories and confessions from Nigerian girls and women that you may have missed this month – A Must See
President Buhari may kill poor Nigerians with contraband rice
God anointed my thing to heal men of their fertility problem by sleeping with them – Pst. Mrs. Veronica