Former Aviation Minister, Femi Fani-Kayode has been very active in his protest and campaign against the Covid19 Vaccines which he described as a tool of destruction.
He has now said the President Buhari and his cabinet have been used as guinea pigs to test Bill Gates's coronavirus vaccines.
He went further by saying that this has resulted in them not being able to think well and make the right decisions. Before then please read: Married Woman: I Have Decided To Cheat On My Husband And Nothing Will Stop Me – Read why
This is a hard hit on the federal government but also a cause for concern.
See his post below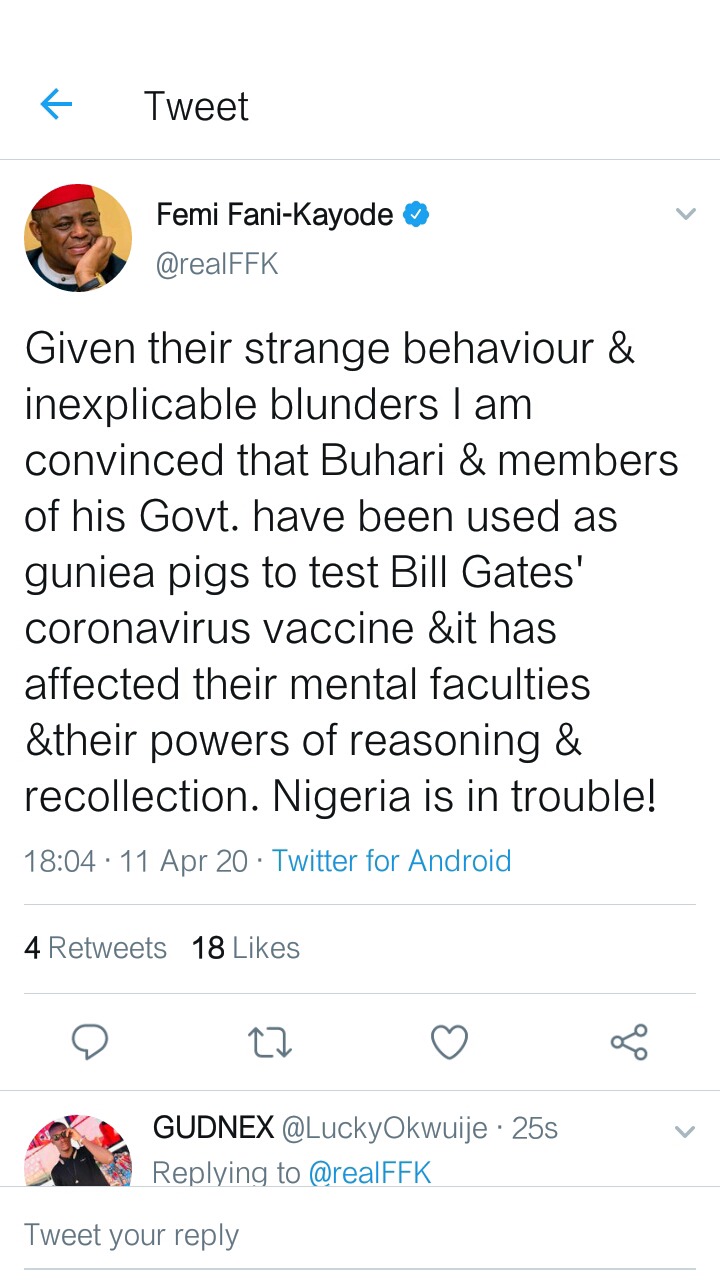 He said President Buhari and people in his government have made so much blunders and behaving strangely. Also did you Watch what Pst. Mrs. Veronica did with my husband in the name of healing and recorded – wife shares video
We are praying this is not true.
Please do you think differently? Share your thoughts via comments below and share this post.
Want to buy GOODS directly from Chinese Factories at WHOLESALE PRICES? Click Here
Read all updates on Coronavirus Here
To get latest updates, follow us on FACEBOOK HERE, and TWITTER HERE
See other topics you missed here;
The Truth about Abba Kyari's rumored death and what we discovered
That Fire Outbreak at the Office of the Accountant General could be a setup to loot – read and share your thoughts
OPINION POLL: Will You Permit Your Bank To Deduct N5,000 To Support The Federal Government In The Fight Against Coronavirus? Vote Your Opinion Here
DONT MISS THIS: Hottest stories and confessions from Nigerian girls and women that you may have missed this month – A Must See
President Buhari may kill poor Nigerians with contraband rice
God anointed my thing to heal men of their fertility problem by sleeping with them – Pst. Mrs. Veronica