Bishop Oyedepo, the founder and Presiding Bishop of Living Faith Worldwide, aka Winners Chapel is not a strange name to Christians in Nigeria, Africa and indeed worldwide. His church has grown to become one of the largest churches globally. His headquarters in Nigeria is said to be one of the biggest church auditoriums in the world, yes, he is one of the richest pastors worldwide.
Looking critically into his activities in the past 10 years any right-thinking person will begin to question his pastoral call. Yes, 70% of Nigerians are gullible and men like Bishop Oyedepo seem to have made efficient use of this gullibility to their advantage.
Bishop Oyedepo is the founder of Covenant University, a school with one of the highest tuition fees; let us break it down according to documents obtained through the university's site, let us see the breakdown below;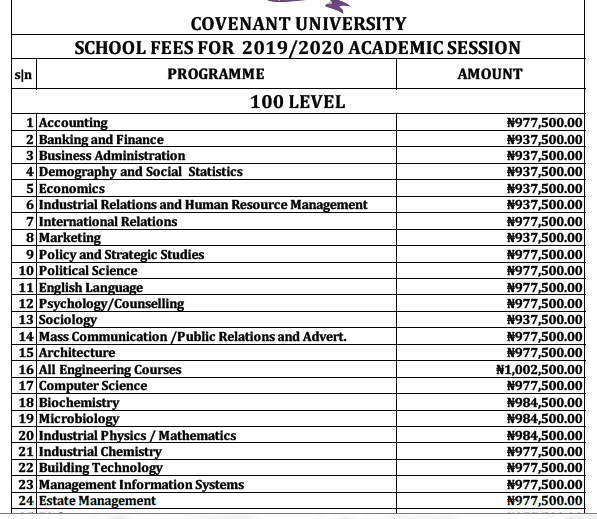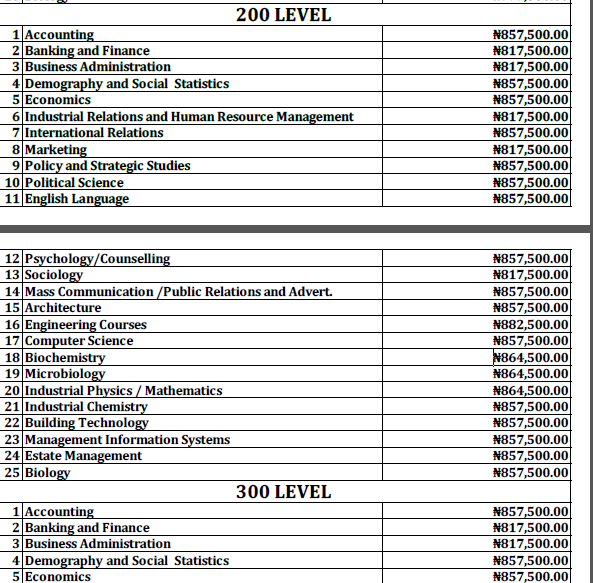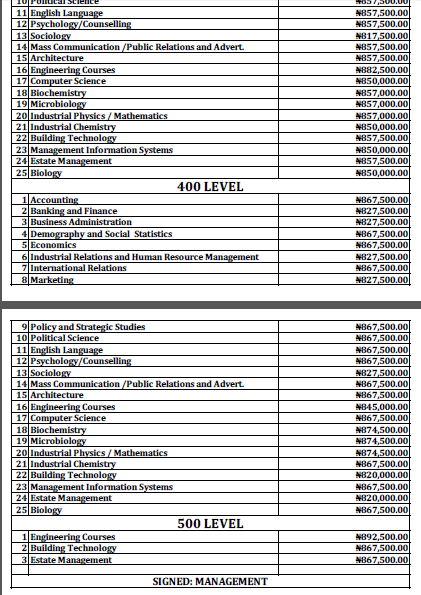 Imagine such outrageous school fees when clearly the school was built through the tithes and offerings of the average Nigerian, can an average Nigerian send his or her child to this school? Man of God indeed.
It is so sad that the church has diverted from its original call to politics and this is one of the major problems, Christianity is about love and if Bishop Oyedepo is truly a man of God, he will not wait for the government to improve the lives of the citizens when he has the financial strength to do such.
I recall when we were growing up, we had Catholic Schools that were free and my father was a beneficiary of their free education. Most of our parents benefited from this, how many have Bishop Oyedepo done? This is a church that makes nothing less than N50million weekly and yet he comes out to condemn the government when clearly he is worst.
David Oyedepo's net worth is about $150million, and owns about 4 private jets, do you know how much it takes to maintain a private jet and pay for the parking? Private jet owners pay N3,000 for hourly parking of their aircraft in any airport across the country and according to the weight of the airplane, imagine how much he spends monthly in parking these 4 private jets, do the calculation yourself.
Also, according to research, "On average, the maintenance cost of private jet ranges from $500,000 to $1 million US dollars (N30 billion naira) yearly and also depending on the aircraft size. Now imagine if they had built Secondary schools across the 36 states of the federation, it will not cost them up to the parking and maintenance of 4 aircraft, I know his blind followers may come and say it is not the job of the church to build schools and my response will likely be 'get behind me blind sheep'. If the Catholic Church did not build schools and offer almost free education do you know how things would have been?
This generation is so unfortunate to have these motivational speakers as men of God, if these men were truly men of God, Christians would have enjoyed a good life because the church is rich but instead they are busy gathering wealth for themselves and children while they keep preaching false gospel of faith to the gullible who constantly take the little they have to them in exchange for an invincible blessing that never comes.
Bishop Oyedepo is better described as a businessman and a motivational speaker and not a man of God. If he and others were truly men of God, Christians in Nigeria will not suffer this much because the church is rich enough to empower them.
Share your thoughts via comments and share this post.