Vice President Osibanjo has given Nigerians a glimmer of hope after he revealed that the federal government is planning on how to help the poor Nigerians who were living on daily jobs for feeding.
The coronavirus pandemic has brought financial breakdown to many families and the federal government is planning on what to do to help Nigerians.
He disclosed this via his official Twitter handle which was a transcript of the interview he granted a few hours ago.
He said the President is concerned about this and is making plans to help them during this coronavirus pandemic period. Before then please read: Married Woman: I Have Decided To Cheat On My Husband And Nothing Will Stop Me – Read why
This is a glimmer of hope to the poor Nigerians who are going through a whole lot to feed at this time.
See his post below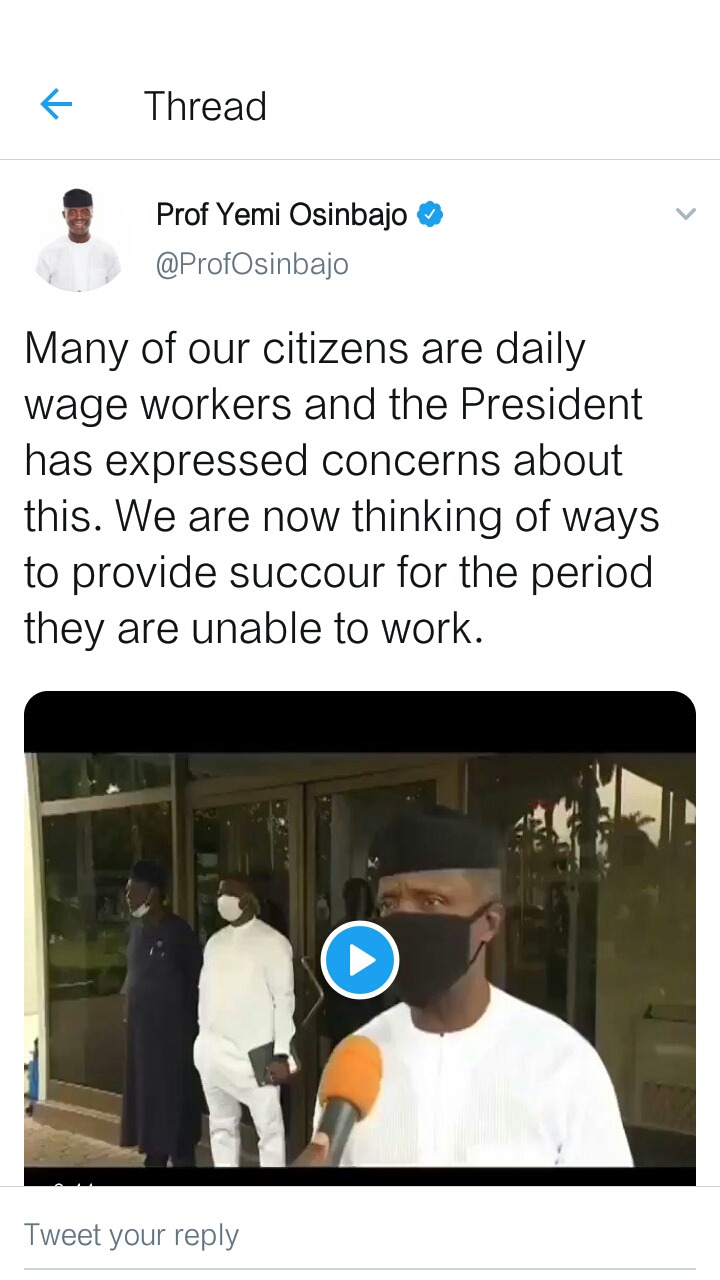 Also did Watch what Pst. Mrs. Veronica did with my husband in the name of healing and recorded – wife shares video
He said the federal government is looking at how to create new jobs if possible to help the poor during this period.
What do you have to say to this? please don't leave without sharing this post and commenting.
Want to buy GOODS directly from Chinese Factories at WHOLESALE PRICES? Click Here
Read all updates on Coronavirus Here
To get latest updates, follow us on FACEBOOK HERE, and TWITTER HERE
See other topics you missed here;
That Fire Outbreak at the Office of the Accountant General could be a setup to loot – read and share your thoughts
OPINION POLL: Will You Permit Your Bank To Deduct N5,000 To Support The Federal Government In The Fight Against Coronavirus? Vote Your Opinion Here
DONT MISS THIS: Hottest stories and confessions from Nigerian girls and women that you may have missed this month – A Must See
President Buhari may kill poor Nigerians with contraband rice
God anointed my thing to heal men of their fertility problem by sleeping with them – Pst. Mrs. Veronica