The Former Minister of Aviation, Femi Fani-Kayode is really upset with the recent news that Nigeria begged Elon Musk for ventilators.
Recall that Nigerian government through the Ministry of Finance ha begged Elon Musk through his Twitter Handle for ventilators.
Kayode wrote a few minutes ago that he has never been so ashamed of being a Nigeria like he is now, he went on to say that Nigeria begging Tesla for ventilators is a shameful thing.
Trending: My Neighbor will get me pregnant before this lockdown is over, I need help and advice – Abuja lady begs
Fani Kayode who wrote earlier this morning that both Elon Musk and Bill Gates are disciples of satan and are planning something wicked against the world is not resting in his attacks on Buhari.
See his post below;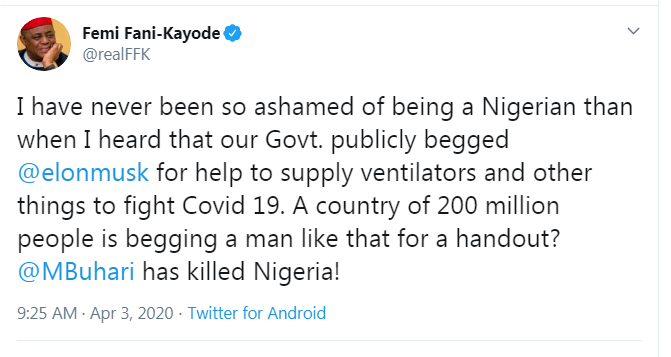 He said it is a shameful thing for a country of 200 million people to beg one man for a handout.
What do you think of this? Please share your thoughts via comments below and please do not leave without saying a word via comment.
Read all updates on Coronavirus Here
DONT MISS THIS: Hottest stories and confessions from Nigerian girls and women that you may have missed this month – A Must See
To get latest updates, follow us on FACEBOOK HERE, and TWITTER HERE
See other topics you missed here;
I will not stop Sunday services because of Coronavirus, my ministry is special – Pst. Mrs. Veronica threaten
God anointed my thing to heal men of their fertility problem by sleeping with them – Pst. Mrs. Veronica
How a girl was raped by the same guy that raped her friend previous year, same month and day
Your p***y has meat – follower tell Anita Joseph after she posts picture revealing her thing
If you sleep with your husband's brother you have not cheated on your husband – Pst. Mrs. Veronica advises