The ongoing battle for supremacy between Davido's fans and Wizkid's fans may have taken a new dimension as one of the stars called out the other camp.
Before you continue reading please make sure you follow us on FACEBOOK HERE, and TWITTER HERE because we have a lot of stories for you.
30B Gang Boss, Davido aka OBO he just responded to a Wizkid fan and calls out the entire Wizkid FC.
This was in response to a comment made by a Wizkid fan who was replying to his tweet about his new track with Nicki Minaj.
He said that if it was Wizkid and Nicki Minaj, that it would have been Nicki Minaj promoting the song and not Wizkid.
This didn't sound so nice to Chioma's fiance who immediately responded that he loves Wozkid but his fans can s**k his d**k.
Dont Miss This:'I don't have Gonorrhea or any STD, Cletus is sent to blackmail me' – Pst. Mrs. Veronica
See his tweet below;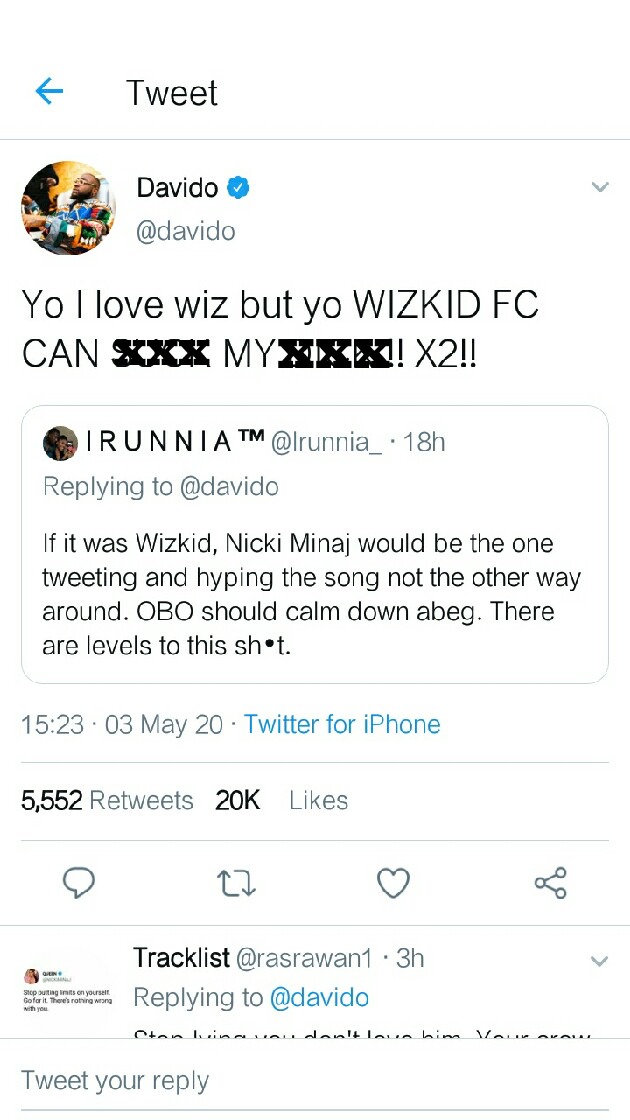 Many would have thought the Davido will ignore the comment as usual but this latest comment will surely spark another long week of argument between fans of both stars.