President Muhammadu Buhari made a serious statement precisely on 26th February, 2015 which was a few weeks before the Presidential elections which got him elected as the president.
He came with full assurance that Boko Haram will be defeated in few months. He blamed the then President Goodluck Jonathan for what he described as "faulty intelligence and analysis" towards the release of the Chibok girls.
On that particular day, President Buhari made a serious statement and that statement is probably hunting him now, he said; if he is elected President of Nigeria, that; "the world will have no cause to worry about Nigeria. It will be able to help itself". Read This: I Have Decided To Cheat On My Husband And Nothing Will Stop Me – Married lady says
Today, that narrative has not changed and Nigeria seems to be in a worst situation.
We bring to you the full statement he made on that day below;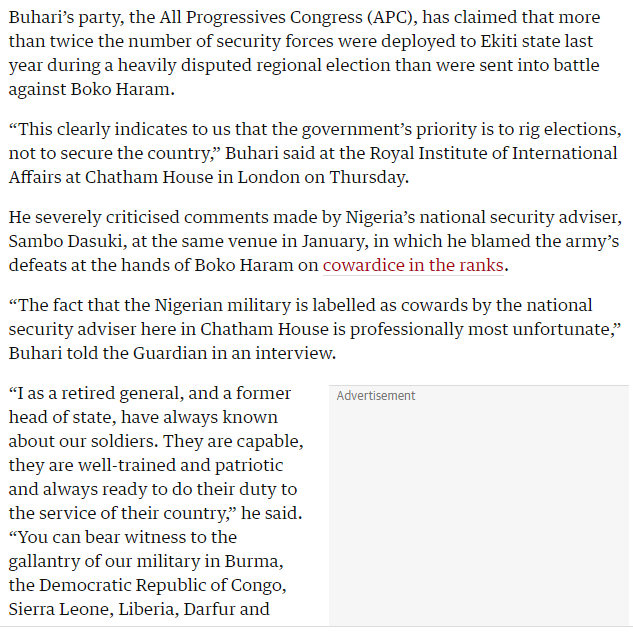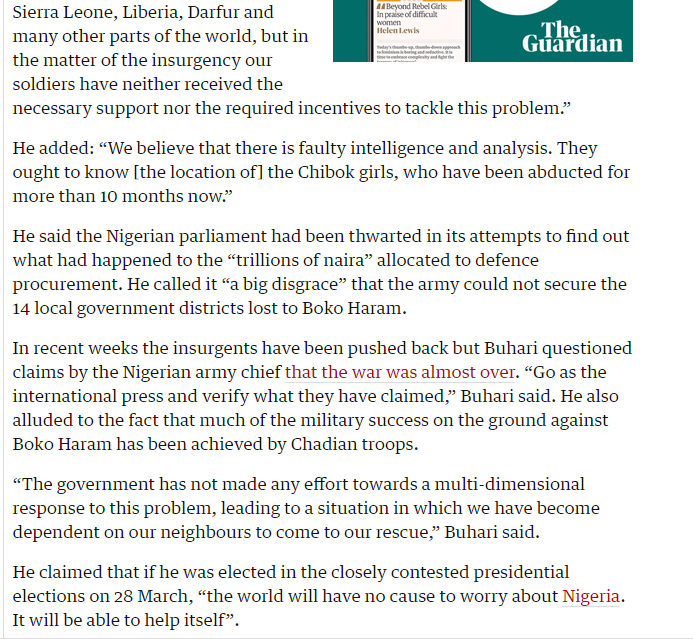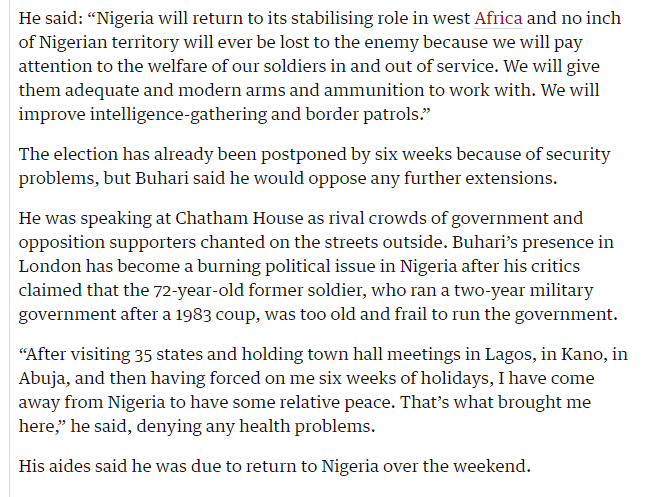 The two statements he made that needs to be revisited are;
1. "but in the matter of the insurgency our soldiers have neither received the necessary support nor the required incentives to tackle this problem" Also read: That Fire Outbreak at the Office of the Accountant General could be a setup to loot – read and share your thoughts
2. "The government has not made any effort towards a multi-dimensional response to this problem, leading to a situation in which we have become dependent on our neighbours to come to our rescue,"
and
3. "Nigeria will return to its stabilising role in west Africa and no inch of Nigerian territory will ever be lost to the enemy because we will pay attention to the welfare of our soldiers in and out of service. We will give them adequate and modern arms and ammunition to work with. We will improve intelligence-gathering and border patrols."
These 3 statements are clearly not going as he said, they are clearly hunting him if he has a conscience at all.
Read all updates on Coronavirus Here
To get latest updates, follow us on FACEBOOK HERE, and TWITTER HERE
See other topics you missed here;
VIDEO: Pst. Mrs. Veronica slept with my husband in the name of healing and recorded – wife shares video
The Truth about Abba Kyari's rumored death and what we discovered